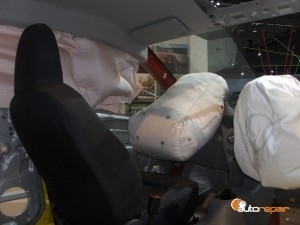 The federal government places a lot of consideration into airbags when determining the safety rating of a particular vehicle. Research indicates that airbags play an import role in reducing fatalities related to car accidents and automakers are quickly starting to develop more innovative airbag designs.
As an attempt to reduce the occurrence of limb injuries that occur during accidents, automakers are starting to install knee airbags under the steering column and glove box of their vehicles. These airbags are designed to cushion the blow when the knees fly forward ruing an accident.
General Motors developed a new airbag that was introduced in some of their 2013 models. This front center airbag is positioned between the front rows seats after being deployed on the right side of the driver's seat. It is designed to provide restrain for the driver and to keep the driver and passenger from colliding with each other during a collision.
More consideration is also being put into the safety of backseats passengers as well, which tend to be children and the elderly. Ford recently created inflatable seat belts for that purpose. Pedestrians aren't being ignored either. Volvo developed a pedestrian airbag that deploys upon impact when a person is hit by the car.
Accidents will always happen, but through the implementation of new airbag technology, the number of accident related fatalities can be greatly reduced.