Auto Transmission Service
If you hear a grinding noise or have a lag when you shift gears, this could mean that your vehicle has problems with its auto transmission. Your transmission directs how power is handled. It acts as a middle manager, telling the gears when to shift, receiving generated power from the engine, and sending the power to your car's wheels. When it breaks down, you lose this communication with your engine and wheels. On top of that, your vehicle will not longer function. To prevent this, maintenance and service should be performed on your transmission as often as necessary. If you need auto transmission service in Lombard, IL, give us a call today at (630) 932-4427.
Transmission Maintenance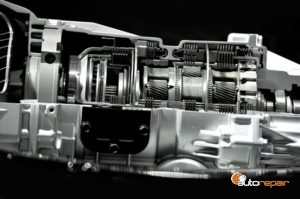 To keep your auto transmission at it's best, fluid maintenance and change should be performed by your local auto mechanic. Transmission fluid change, normally recommended every 30,000 miles, will help keep residue and particles out. These particles can cause unnecessary wear on your transmission. Our transmission service mechanics can repair or maintain your car's transmission. J1 Auto Repair has 20 years of experience, as well as ASE certified technicians. We offer shuttle service to your work or home in the area, for your convenience. Call us today at (630) 932-4427 for auto transmission in Lombard, IL.