Serpentine Belt Replacement and Repair
Sometimes when your car fails to start or begins to over heat, it is not due to battery or radiator problems. A very real possibility that many overlook is wear and tear on the serpentine belt. This belt is some times called the drive belt and connects many parts of your engine together through transfer of power. When this breaks, many parts of your engine from your water pump to your alternator can fail. If you believe your serpentine belt is wearing or broken, let our expert auto mechanics get your vehicle back on the road. Call J1 Auto Repair at (630) 932-4427 today for your serpentine belt replacement in Lombard, IL. 
Engine Maintenance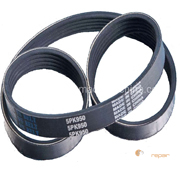 In order to keep your engine running perfectly, your car will come with a scheduled maintenance recommendation. During these, as well as during your oil changes, your auto mechanics will inspect your drive or serpentine belt. At this time, they will be able to exchange it out if the belt is getting close to the end of its usefulness. The belt will be checked for cracks and damage. All pulleys and bearings are also inspected for safety.
At J1 Auto Repair, we make sure your vehicle receives only the best quality service. Our auto mechanics are experts in all makes and models of vehicles and as ASE certified. We always ensure your safety, which is why we offer local towing service for your convenience as well as shuttle service. Give us a call at (630) 932-4427 today to speak with one of our professional mechanics about your serpentine belt replacement in Lombard, IL.