Alternator Repair Service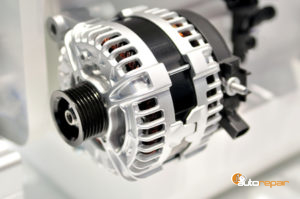 Do you notice your dash lights flickering when starting your car? Does your car stop or stall out while driving? These can possibly be signs of a bad alternator. This piece is very important for maintaining a charge within your engine. Without this, your battery is left to power your vehicle without any recharge, making it die quickly. When you first notice problems with your head lights or dash, the best thing is to have it taken to an auto shop quickly. They will be able to determine the origin of the problem and repair or replace it. When you need alternator service in Lombard, IL, give J1 Auto Repair a call at (630) 932-4427. 
Bad Battery or Faulty Alternator?
When you first notice problems with your vehicle's electrics, this could appear to be a problem with your battery. However, alternator problems are extremely similar to a dead battery problem, since this part actually helps the battery retain it's charge. To tell the difference you can perform this simple test: press on your accelerator. If your headlights dim, then it is your alternator. Our ASE certified mechanics have the experience and tools to best serve your car. We offer a 2 year / 24,000 mile warranty as well as towing service. Let our team go to work for you! Contact us today at (630) 932-4427 to get your vehicle serviced in Lombard, IL.