Blown Head Gasket Replacement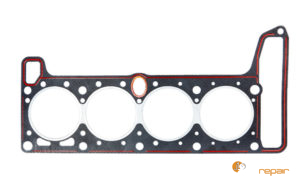 Have you noticed your engine over heating more? Is this coupled with white smoke and water leaking from your exhaust? These are clear indicators that your head gasket is no longer functioning. This gasket is important to your engines combustion processes. When you see these signs, it is time to get your car to the shop. It may be unsafe to drive your car in this condition. That is why we offer towing services for Lombard, IL. Our auto mechanics will pick up your car and bring it to the shop for service. We even have a shuttle service to get you home or to your work. For the best service in town, call J1 Auto Repair today at (630) 932-4427 for your head gasket replacement.
The Head Gasket's Function
The head gasket is nested between the engine block and the piston cylinder head. It seals the combustion process, occurring in the engine's piston chamber. It also keeps the engine's fluids such as coolant and oil from colliding. A blown gasket can cause loss of engine power, as well as malfunction. Our ASE certified mechanics get your gasket replaced and your vehicle back on the road. Our goal is to provide the best customer service in Lombard, IL and we deliver! Give us a call  at (630) 932-4427 for your auto repair service today!