Brake Repair Service
When seeking brake repair service, you need an auto shop that will take your needs and specifications into consideration. J1 Auto Repair completes service for all makes and models in Lombard, IL. We understand sometimes you cannot get your car to the shop, which is why we offer towing services and shuttle services for you to work. While you complete your day, we get your car back to road-worthiness. Contact J1 Auto Repair today at (630) 932-4427 for your service appointment or to speak with one of our ASE certified auto mechanics about your car!
Brake Noises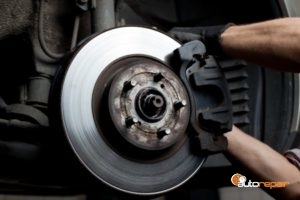 The iconic squealing, screeching noise of worn brakes is a clear indicator that it is time for a service. This is created by the wearing of your brake pads against your wheel and drum. Another important service is to have your brake fluid flushed and changed. This will prevent debris and particles from entering your line and causing damage to your braking system. J1 Auto Repair auto mechanics are experts in brake service for all makes and models and maintain ASE certification. We perform thorough, high quality inspections and repair work for your car in Lombard, IL. Call us today at (630) 932-4427!