Hybrid Car Battery Replacement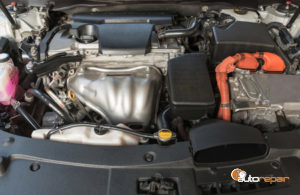 For your hybrid car, electricity is an important part of keeping your car running. To ensure it continues functioning, it requires more maintenance and car for the battery and electrical system. If your hybrid car battery fails, you will need a replacement. At J1 Auto Repair, our auto mechanics specialize in hybrid car repair and battery replacement. We can tow your car to our shop and get it roadworthy before you know it. If you need hybrid car battery replacement in Lombard, IL, give us a call today at (630) 932-4427! 
Your Local Hybrid Repair Shop
Replacing a hybrid battery is better done by a certified mechanic. The hybrid car system is a complex and electrically charged system, completely different from the gas engine system. In attempting to change out the battery yourself, you may accidentally shock yourself and even damage your vehicle.  Your safety and the safety of your vehicle are huge concerns in such an undertaking. Our ASE certified mechanics are able to complete repairs on any make and model of hybrid car. We even offer shuttle service to get you to your home or work while we replace your hybrid car battery. Contact J1 Auto Repair in Lombard, IL for your hybrid car battery replacement today at (630) 932-4427!