Radiator Service & Repair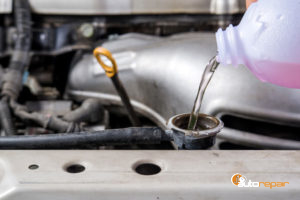 When you visibly see coolant leaking from your engine, the cause can be one of two culprits: your water pump or your radiator. Your radiator plays a crucial role in your engine processes. Once coolant removes the heat from your engine, it travels here to release that heat. It then goes back to your water pump. When this part is broken, your coolant cannot cool itself down and therefore cannot cool the engine down. This can lead to severe engine damage and even failure. The best thing is to have your car towed to a shop as quickly as possible to avoid overheating. Call J1 Auto Repair today at (630) 932-4427 for your auto repair service in Lombard, IL.
The Importance Of This Service
Your engine creates combustion in order to operate. Without a cooling mechanism, the heat can affect gaskets, seals and other pieces of your engine causing massive damage. While you may be tempted to drive your car  to the shop when it is signalling it is overheating, this is a bad idea. While you may be patient enough to keep your engine cool through quick stops for cool downs, this can still cause irrevocable damage. That is why we offer towing services. We will bring your car to the shop and have our ASE certified technicians provide expert auto repair service to get your car on the road. Call us today at (630) 932-4427 for radiator repair or replacement in Lombard, IL.