Water Pump Replacement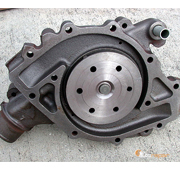 If your vehicle is overheating, it could be a problem with your radiator or your water pump. Your water pump is a crucial part of your engine. Combustion engines generate an excess of heat in order to perform their normal functions. To keep this constant without causing damage, your pump send coolant through your engine. At J1 Auto Repair, we complete auto repair and pump replacement to keep your vehicle at its best. If you are experiencing an overheating engine or water pump failure, call (630) 932-4427 for your replacement in Lombard, IL. 
Signs That Water Pump Is Faulty
Aside from the obvious red flag of an overheating engine, there are a couple of other ways to tell if you have a pump problem. If your car refuses to start at all, there is a high likelihood that your pump is broken. When you go to start your car in the morning, take a moment and look under your car. Do you see a green, red, or yellow fluid leaking from underneath your car? This is a coolant leak. When any or all signs of pump failure occur, refrain from using your vehicle and have it taken immediately to your local auto repair shop. 
Our expert mechanics are always available to assist you. J1 Auto Repair offers towing service too. We have ASE certified technicians and our auto mechanics have 20 years of experience in the auto repair industry. Give us a call today at (630) 932-4427 for water pump replacement in Lombard, IL.