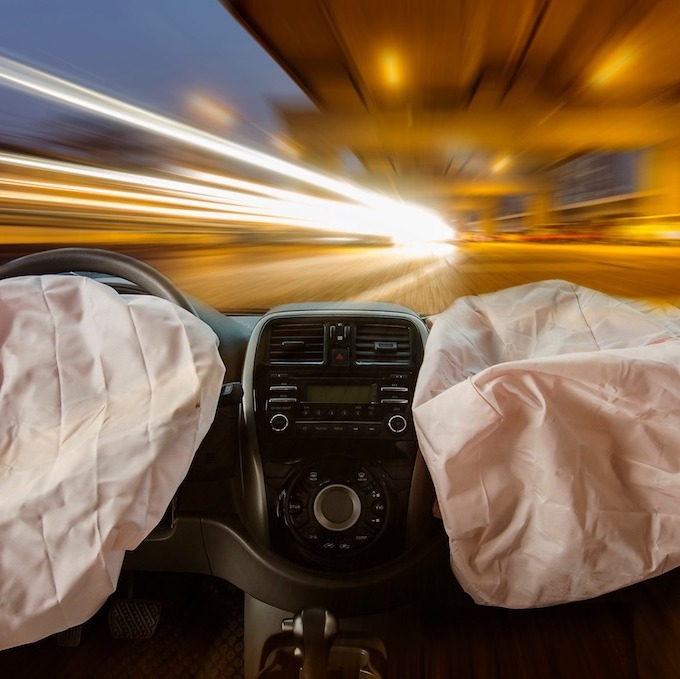 Learn More About Airbag Deployment
What are airbags? There are many required safety features on cars today. One of the first safety devices was introduced in the 1970s and today is required on all vehicles manufactured in 1998 and forward. Yes, we're talking about airbags. It took about 20 years for them to prove their worthiness, but you can't buy a car, or most motor vehicles, without them installed. And your car won't pass inspection without them today! 
What is the purpose of airbags in vehicles? 
The intended purpose of airbags being installed in motor vehicles is to provide protection from serious injuries to the driver and passengers when the vehicle is involved in a crash. Airbags protect the chest, head, and neck from slamming into the dashboard, steering wheel, and/or windshield when the vehicle is involved in a crash. 
However, they do not provide any protection when the vehicle is involved in a rear-end collision or a rollover crash. The earlier version of airbags didn't provide protection when involved in a side collision, but today, car manufacturers have designed a way to install airbags in the door panels. 
How do airbags work? 
Airbags are designed to inflate when the sensors discover an impact has occurred quickly. They are installed in the steering wheel, dashboard, and today, as we mentioned above, they are now installed in the door panels to provide protection from the side. When seat belts are used, the combination of airbags can protect the driver and passengers by being restrained with the seatbelts and cushioned by the airbags from slamming into surfaces of the vehicles.
Are airbags required in all vehicles? 
Since 1998, front airbags have been required in all vehicles by the United States government. They must be installed during the manufacturing of all vehicles. The newer airbags include a safety belt sensor and deploy when an algorithm signals the sensors an impact. This determination of those algorithms is based on the seat belt in use. 
Typically, for occupants that are not wearing their seat belts, the front airbags will deploy with an impact when the vehicle is going between 10 and 12 mph. A higher threshold for the deployment of most airbags at 16 mph for occupants wearing a seat belt.
Are airbags safe? 
Yes, the National Highway Traffic Safety Administration has completed several studies of real-world crashes and found that when a combination of airbags and seat belts are used by the driver, it has prevented chest injuries in more than 65% of the accidents and up to 75% of serious head injuries in front end crashes. 
Can airbags injure the driver or passengers?
The force of deployed airbags has been to cause the following injuries: 
Damaged or broken jaw
Broken or cracked noses
Black eyes
Other facial bones broken
Rare eye damage causing blindness, temporary or permanent
Can airbags be turned off or disconnected?
The seat belt has proven to be a safety feature that cannot be eliminated. In addition to that, airbags are another important safety feature that shouldn't be discounted. However, some vehicles come with the option of disabling the passenger airbags for the following reasons:
Traveling with a rear-facing child seat in the front on the passenger side. If the passenger side seat is protected by airbags, a rear-facing child car seat cannot be used. 
If there are unusual medical conditions of a front seat passenger, the airbags may be deactivated.
The steps to deactivate airbags are different for every manufacturer. The instructions are provided in the manufacturer's manual to complete the process. In most cases, the PACOS can be found on the dashboard of the passenger side or in the glovebox compartment. There is an on/off switch that requires a special key to be inserted. 
We must state that for the safety of yourself and your passengers, it is not recommended to have the airbags deactivated with the rare exceptions as stated above. If you have a passenger with unique medical conditions, having written proof on hand signed by their medical professional is recommended. 
In Closing
A vehicle is still drivable with the airbags disconnected and if they have been deployed. However, each state has its own laws when it comes to seat belts and airbags.  In Illinois, any vehicle over 8,000 pounds or can transport 10 or more passengers must have working airbags. 
What proof does the government have to support the requirement of airbags on all vehicles? The NHTSA states that over 50,000 lives have been saved by front airbags as of 2017. In front-end crashes, front airbags reduce fatalities of drivers by almost 30% and over 30% of front-seat passengers. When you consider those numbers, that is a significant number of lives saved by this invisible safety device we call airbags. If you have experienced airbag deployment in Lombard and Wheaton, IL, please give us a call at 630-932-4427 today!