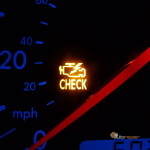 Today's vehicles are controlled largely by a computer that is equipped with sensors that help your car stay road ready by maintaining high levels of efficiency. When the onboard computer detects a substantial dip in efficiency or an outright failure of one of your driving systems, it will send message causing your dashboard warning lights to illuminate.
One of the lights on your dashboard display is a check engine light that may be depicted as a small outline of an engine or the words "Service Engine Soon." Once you recognize that your check engine light is on, you can take the next step towards making any repairs.
It is important to note that once a dashboard warning light is illuminated, there is already an issue with your vehicle. This means that you should get your car, truck or SUV serviced immediately to avoid further complications.
If you happen to have an engine diagnostic computer handy, connect it to your car's central computer and run a quick test. The diagnostic computer will scan your car's computer for any error codes, and if it finds an error code it will display the error code. You will need to match the error code on the display to its related system failure.
If you don't happen to have an engine diagnostic computer handy, you can purchase one at your local auto parts store. If you don't feel comfortable performing your own tests and repairs, trust the professionals at J1 Auto Repair to help you get back on the road!